Hey Google Are You Better Than Alexa? Voice Assistant Comparison Guide
Voice assistants are becoming more and more popular, but which one is the best? Hey Google Are You Better Than Alexa? Voice Assistant Comparison Guide compares the two most popular voice assistants side by side, so you can decide for yourself which one is better.
To survive lockdown, many had to scramble to do a crash course in conducting their work and play from home. Similarly, to stay current with technological innovations in the home environment, it is important to get to know what home automation involves.
Since the beginning of time, people have fantasized about home technology or tools that help in performing our more routine tasks. This fascination with a self-automated home is endearingly illustrated in the cartoon Wallace and Gromit featuring the mad, cheese-loving scientist continually making faulty inventions to automate his home. These include: a self-making bed, a bedside breakfast-ordering machine, a toast spreader, a sheep alarm, a self-making coffee maker… you get the picture.
In line with this, there has been a steady progression of technology slowly taking over your household chores. From the revolutionary washing machines and vacuum cleaners of the 20th century, microwaves, air conditioners, and refinements in Wi-Fi and computer technology. All of them were stepping stones to where we are today with Smart Homes. Smart Home technology will continue to evolve – so get on the bandwagon!
Smart homes today involve making your current technology "smarter" by hooking up your devices and appliances into the Internet of Things (IoT), thus making an eco-system of devices, a network expanded by each additional device you bring into the loop. This requires a centralized hub from which to centrally control all these devices (usually your phone with a special app or a special controller) – remotely! Once achieving this setup, you just need a speaker (smart home hub) to receive your commands and relay them to your devices.
The two most common hubs (Amazon's Alexa and Google Home Assistant)use artificial intelligence to streamline your home. Your virtual assistant will be able to do a range of tasks from lowering the room temperature, turning on your lights, getting the music going, compiling a text message, and looking up a range of information – oh the many many possibilities.
A few tips to keep in mind:
Some devices are only compatible with specific virtual assistants.
Most Wi-Fi devices will connect directly to your virtual assistant, however, some (especially those that use Zigbee or Z-Wave) require an intermediary hub.
All your smart devices will be using a small amount of bandwidth to connect to the virtual assistant. So, if you already have extremely slow internet speed it may be time for an upgrade.
Some broad comparisons between Amazon Alexa and Google Home Assistant:
| | |
| --- | --- |
| Amazon Alexa Home System | Google Home Assistant |
| Needs specific commands in order to respond to an instruction (there are a few variations in phrasing). Can do a series of instructions but have to be clearly differentiated. | Can give a few instructions in a single sentence. |
| Wake Word: "Alexa" | Wake Word: "Okay Google" |
| Alexa is the most common virtual assistant with broad compatibility with devices. | Particularly good Artificial Intelligence technology as it has access to Google's database. |
| Uses Wi-Fi, and some speakers have Bluetooth capabilities. | Uses Wi-Fi |
| Has lots of add-on skills. This includes things like Spotify, The Weather, etc. | Also has add-ons, but less than Alexa. |
| Quick to answer common questions, can give more elaborate answers with additional context. Better at having conversational questions. | Good at answering questions you would usually type in Google search. |
| Main device is the Echo series. | Main devices include Google Home, Pixel phones and Android Phones. |
| Supports up to 10 different voices. | Supports up to 6 different voices. |
What do you need for Alexa to work?
You will need this magic triad:
Amazon Echo Speaker, your central command module.
The downloaded virtual assistant (Alexa).
The phone app (Amazon Alexa)
Some ideas for using your virtual assistant, Alexa
Used correctly Alexa can be the best virtual life assistant we all secretly have been waiting for. Life is hard, Alexa can make things a little easier.
A few tips to bring out Alexa's creativity:
Smart Fridge Cam: view the contents of your fridge remotely. Start buying things you need, and stop buying things you don't
Give your TV commands without a remote
Give your virtual assistant instructions while you are hands deep in other things, i.e. "call mom", "read me my emails", "schedule an appointment with" "what does IoT stand for"
Set the temperature
Lock your doors and windows with smart locks
Read your kid a bedtime story
French lessons
Bring some wit into the picture with an occasional joke
Do your grocery shopping online
Book your upcoming holiday accommodation and transport
How much do Google Home and Alexa cost to run?
To purchase they are similar prices, ranging from $49 to anything up to $300, each brand have a range of speakers that come with different price tags. In regards to electricity consumption, they consume basically nothing despite being on 24/7.
Do I need a smart home hub?
In the good old (not so old actually) days, one had to have a clunky piece of hardware for your hub, which was the nucleus of all operations. Now, this hub feature is built into your command speaker and will talk to most of your smart home compatible devices. However, certain devices in your home may need a separate hub. 
If you have a diverse range of devices that are not all compatible with virtual assistants, sometimes a separate hub can streamline things (otherwise you may need a separate app for each incompatible device). A hub can also increase the remote range of devices that may have a limited range.
Best devices to pair with your smart home hub
Maxcio Smart Switch – turn your "outdated" electric devices "smart"
Maxcio Lighting – control your lights from anywhere
Amazon Echo Auto – take your virtual assistant beyond your home into your car
Amazon Echo Show – a tablet with Alexa compatibility
Temperature Control – turn up the heat or cool things off
We are in a new era of home technology. You can either resist it, or, alternatively, embrace it. Let smart home devices and their virtual assistants help you live the life you want to lead on your terms.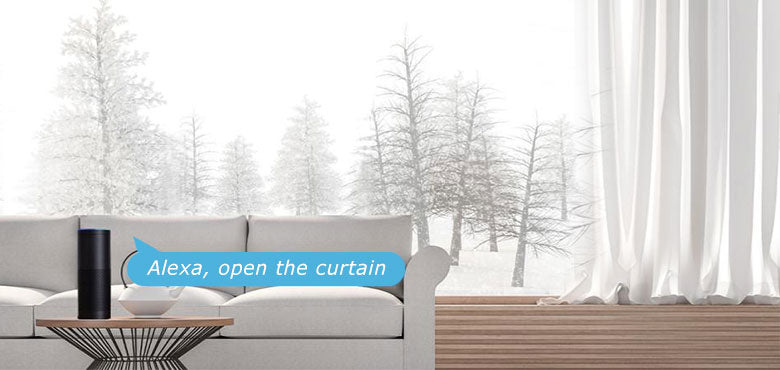 Leave a comment