The Biggest Smart Home Trends of 2022
Looking for the latest trends in smart home technology? Check out our blog post on the biggest smart home trends of 2022. From voice assistants to connected appliances, we'll help you stay up-to-date on the latest and greatest in the world of smart homes.
With the advent of the Covid-19 outbreak in 2019, the Smart Home market saw a huge surge in new trends as consumers were spending more time at home than ever before.  This unforeseen rise in consumer interest in Smart Home systems has led the Smart Home market value to increase by over 55% ($22.7 billion) from 2019 to 2022 in North America alone.

Smart Home Entertainment systems have been among the most popular Smart Home purchases in the past two years, but smart devices that provide more practical and customizable functions such as smart locks, light bulbs, thermostats, and curtains have also been trending.  The increase in demand for Smart Home devices doesn't look like it will diminish any time soon, despite the end of lockdowns.     

Being fortunate enough to have a job that I can do from home, I've been taking advantage of all the new Smart Home developments and have been slowly updating my pad into a smart "Ex-Machina" inspired lair, minus the creepy AI slave experiments.  I thought I'd share some of my knowledge and experience in upgrading to a Smart Home and what trends to look out for. 

Without further ado, let's get started.

How Smart Homes Work

The Smart Home features installed throughout your home are all controlled from an app on a device such as your smartphone or tablet.  Most Smart Home systems are also compatible with cloud-based voice services such as Amazon's Alexa, Google Assistant, Apple's Siri, or Samsung's S Voice. All you need is an internet or Bluetooth connection, and you're good to go. 

Through the app, you have total control over the settings and activity of your smart home devices.  That means you can dim the lights, adjust the temperature, check the contents of your fridge, or watch your doorbell security camera activity without having to physically locate and interact with it; you can just ask your voice service assistant or manage it from your phone, no matter where you are.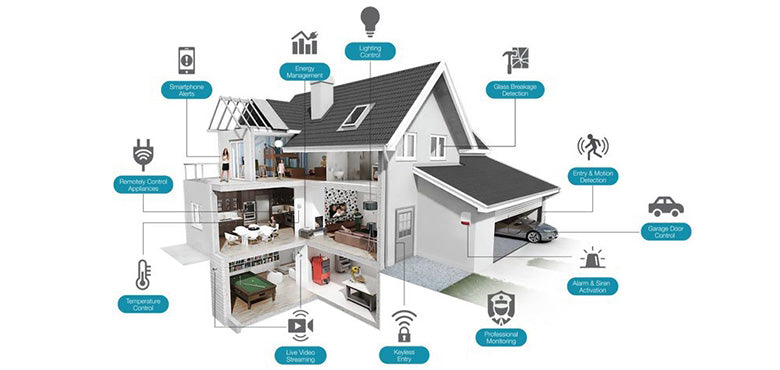 Personally, I love that I can tailor the ambiance and functionality of my home to suit my mood and schedule.  My favorite setting I've configured for my daily routine is, rather than using an alarm to wake myself up, I set a timer for my smart curtains to open when I want to get up so that I'm woken more naturally by sunlight.  While the curtains open, the other timer I set for my speakers activates and music or ambient sounds play as the light gradually floods into my room.  Currently, I love the sound of chimes playing as the curtains slowly let in the first light.  

Another great feature of Smart Home systems is that they allow you to easily monitor your home's electricity consumption, helping you save money and the environment.  According to American Home Shield, you can save more than $140 on your electricity bill each year by upgrading your place with a Smart Home system.* Simply navigate to the electricity window on the app and everything regarding power consumption and what causes it is clearly displayed. Most Smart Home apps also let you set an eco-friendly setting as the default. 

The area of your house where you can get the most benefits from Smart Home technology has got to be the kitchen.  For a lot of homeowners, meal-prep and clean-up is a tedious and sometimes stressful chores that they don't always have time or energy for.  In the 2020s, homeowners are clearly turning to Smart Kitchen appliances to remedy this.  Last year, Globe News Wire reported that the Smart Kitchen market was worth 13,786.0 million dollars, and is projected to be over $47, 017.2 million by 2028. This market growth is likely due to the fact that Smart Kitchen appliances not only make cooking and clean-up easier, but also more suitable to your schedule and tastes, not to mention, they're more eco-friendly. 

Let's have a look at what Smart Kitchen appliances are trending this year.
Top Smart Home Kitchen Trends
Smart Refrigerator with Screen for Recipes
      Get recipe suggestions automatically based on what is in your fridge.
      Have your coffee ready as soon as you walk into the kitchen.
      Guided meal-prep and hands-off cooking.
      High performance and reduces water consumption greatly.
Smart Refrigerator With Screen for Recipes
This particular appliance tops the list of trending smart kitchen appliances because of how intuitive and beneficial it is, especially for busy families with children.  In 2022, smart refrigerators come with a touchpad screen (which you can also view from your phone) that not only tells you the contents of your fridge, but also gives you recipe suggestions based on those contents, and if you're missing ingredients for a recipe, you can order food directly through the interface (depending on availability). This function is especially a lifesaver to those busy moms and dads who struggle to come up with dinner ideas for the family midweek.  

Samsung's Family Hub Smart Refrigerators are currently leading the way for functionality and customization. These appliances not only provide the above functions, but also allow family members to share their schedules, pictures, play music, and manage their other smart devices. It's basically the central device for the entire home, accessible to the whole family.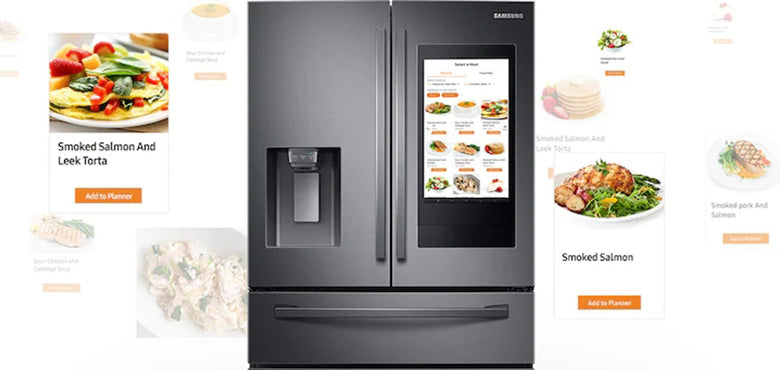 Smart Coffee Makers
Smart coffee makers make it possible to have a delightful, energizing brew as soon as you walk into the kitchen. Caffeine addicts like me have had enough of fumbling around in caffeine-withdrawn fogs, ineptly struggling with grinders, filters, and inconsistent cups of coffee.  Also, if I am to use myself as an example, the standards of coffee-lovers these days have gotten higher.  We want fresh ground coffee, brewed at that local coffee shop level of quality.  We mean business, which is probably why Smart coffee makers are on the rise. Like other smart devices, smart coffee makers, like the Keurig C K-Elite K Single Serve K-Cup Pod Maker, allow you to "order" your coffee exactly how and when you want it from your phone.   Many of these machines are the "pod-type" machines which usually require you to purchase the pod of the same brand, but others have a built-in coffee bean grinder, letting you use the beans of your preference.
Smart Cookers
Smart cookers are multi-functional cooking pots that let you prepare meals with minimal effort or cooking know-how.  They are the definition of an "all-in-one" device as they have everything built-in from a scale, pressure pot, air-fryer, and recipe catalog; all of which can be monitored from your phone or tablet via a Wifi connection. What's really cool about smart cookers is that they can actually walk you through a recipe step by step, which makes meal preparation practically effortless and almost impossible to mess up. 

The function that takes the cake for me is the ability to not only set a timer so that your food is ready exactly when you want it to be, but that you can also check on the progress of the meal from wherever you are.
Smart Dishwashers
Everyone despises kitchen clean-up, especially doing the dishes.  However, I feel like myself and many others are actually fine with using regular dishwashers. They do exactly what they are designed to do and I honestly can't think of how they could get any "smarter" or why you would want to control your dishwasher from your phone. Well, apparently I underestimated how much consumers hate dirty dishes, because Smart Dishwashers are trending in 2022. 

The main areas in which Smart Dishwashers improve upon regular dishwashers are as follows:
Smart dishwashers help you to save on water consumption by more than 30%; made possible by recycling and storing filtered water from rinses cycles.
State-of-the-art sensors can determine how dirty the dishes are and set a wash cycle accordingly.
Receive notifications on your phone regarding wash cycle status, detergent levels, or any malfunctions.
Overall, smart dishwashers have much better performance and functionality than standard dishwashers and can be connected to your smart home system. 
Now it's time to address the elephant in the "smart room".  Cost.  It's no secret that smart appliance devices come at a premium, which is likely why not everyone's house is decked out with these state-of-the-art gadgets. That being said, it's definitely worth thinking of these products as less of a luxury and more of an investment as they can add tremendous value to your home, especially when it comes to the kitchen.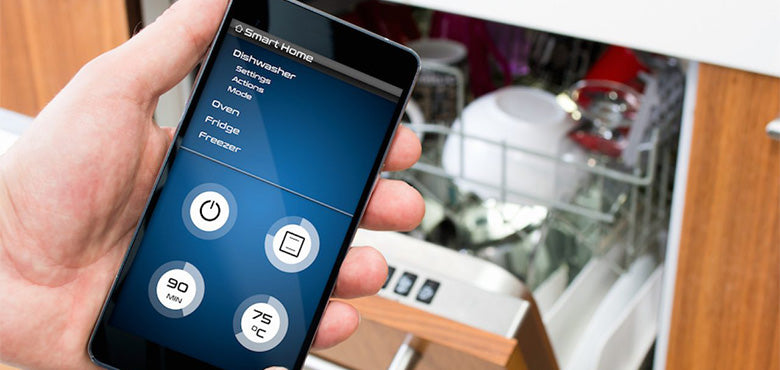 Do Smart Homes Increase Home Value?

Homes installed with Smart systems provide more convenience, security, and energy efficiency, which all add to the value of the home.  Research shows that homes configured with smart home technology can consistently increase their market value by at least 5%.  

Homes that are already configured with Smart Home technology also make your home significantly more attractive to generation X and millennial homebuyers.  According to the National Association of Realtors 2021 Home Buyers Generational Trends Report, generation X and Millennials are about 10% more likely to purchase homes with Smart Home features.

Like any new addition to your home, including smart devices or appliances, the value of your home increases because it has been updated to meet –or even surpass- modern standards. Considering how difficult it is to purchase property in the 2020s, especially for young families, home buyers are looking to get the best value by purchasing homes with updated and modern systems that are already set-up.
 
So, is it worth it to shell out some extra cash and invest in some of the latest Smart Home renovation trends covered in this post? The data shows that if you can afford it, it could potentially pay itself off down the road, help you turn a tidier profit, and make your home more attractive to home buyers.

If you are curious about what the future of Smart Home technology has in store, take a look at what to look out for in 2022 and beyond.

Smart Home Trends to Watch Out For

Besides the staple Smart Home devices such as smart control displays, plugs, and light bulbs, the top trending Smart Home devices on Amazon are related to home security, like video doorbells, smart locks, surveillance cameras, and outdoor lights.  These are all essential but pretty basic when it comes to upgrading your home with smart devices.  If you're looking for more creative ways to customize your home in 2022, consider these alternative trending smart home gadgets.
Aroma Diffusers

-Adjustable mist and LED settings to set the mood

-Automated schedule and timing function

-Notification when aromatic liquid is running low
BMI Digital Bathroom Scales

-Accurately measure your body mass index

-Track changes in your body composition

-Set weight loss/muscle gain goals

Portable Movie Projector

- 1080p Full HD video projection

-Mirror Netflix from your smart device with Wifi or Bluetooth connection

-Contrast, brightness, colour, all configurable from your smart device

-Portable projector and screen so you can have movie night anywhere

-Smart speaker and surround sound support    

Smart Ceiling Fans

-Phone, tablet, or voice configurable fan speeds

-Dimmable lights

-Up to 75% more energy efficient than traditional fans but with the same airflow capabilities.
That wraps up this week's blog. I hope this overview gives you an idea of how Smart Homes work and what devices and appliances to keep an eye out for in 2022.  If you're not sure how to get started on setting up your Smart Home, or you want to keep up with Smart Home trends, make sure to stay tuned to our blog for more up-to-date information.  We'll be here to help you inhabit happiness. 
Leave a comment