Best Black Friday Through Cyber Monday Tips and Deals 2021
It's that time of year again, Black Friday and Cyber Monday are just around the corner. There are tons of deals for shoppers out there. It's estimated...
It's that time of year again, Black Friday and Cyber Monday are just around the corner. There are tons of deals for shoppers out there.
It's estimated that roughly 9 billion dollars will be spent this year during Black Friday and Cyber Monday.
With so much competition for your eyeballs and credit cards, Maxcio would like to give our friends some helpful tips to navigate through the clutter and to make sure you are getting everything you want this year.

Along with the tips, Maxcio is also offering up to 25% off almost everything in the store. This includes our best-selling LED Strip Lights, Aroma Diffusers, Smart Switches, Smart Plugs and much more.

So let's get started. Here are some quick shopping tips for the 2021 holiday season.
1. Get a Head Start.
Start researching early. Whether you are venturing outside or getting online to find amazing deals, you should get up early.
This may mean less sleep, however, the sooner you go to the store (online or brick and mortar), the more likely you are to locate what you're looking for.
So, plan on getting up early (or staying up late) to complete your shopping list. You will thank yourself later.
2. Sign Up for a Company Newsletter
It takes a few seconds to provide your email address, then you can start receiving newsletters completely free.
A few weeks before Black Friday and Cyber Monday, start paying attention to your emails. They're the most convenient method to keep track of promotions.
Since they come directly from the source, signing up for an email list is more efficient than scouring the internet and clicking on the first result.
Register now with Maxcio. We will keep you informed through the holiday season.
User Registration
Processing...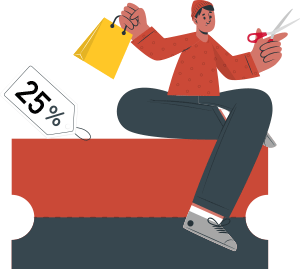 3. Set a Budget
The best way to avoid overspending is to set a budget and stick to it. It's hard to do if you don't know exactly what you want to buy.
Get an idea of what you want this year and create a shopping list. It's the same concept as creating a grocery list before heading to the market. This way you will ensure you don't forget anything and more importantly, you won't go over your budget.
So don't deviate from your budget this year. After all, a budget tells us what we can't afford but it doesn't stop us from buying it.
4. Shop Online
Getting up early to start shopping is one thing, but getting out of bed at the crack of dawn to fight the crowds, long lines, and angry customers is something completely different.
Some people enjoy the competitive atmosphere, others would prefer to stay home.
In reality, you can find just as many great deals from the comfort of your home.
In the weeks leading up to Black Friday and Cyber Monday, set aside a few hours to research items and create bookmarks in your browser.
This way when you wake up all you need to do is input your payment information. 
5. Have a Backup Plan
Most retailers have limited supplies for products with the biggest discounts. This is important to keep in mind, especially if you want a doorbuster deal. If they sell out, then what next?
This is something you should ask yourself for every product on your list.
Having a good plan is critical for success, so have your contingency plan mapped out. You never know how fast hot items will fly off the shelves during Black Friday and Cyber Monday. 

Maxcio is happy to be taking part in this year's holiday season by giving great deals to all our customers.
This year all Maxcio products are up to 25% off! That's right, every product in our store is on discount this year. Don't procrastinate because supplies are limited.
The event starts on the 26th and ends on the 29th. 
Have a favorite Black Friday or Cyber Monday shopping tip? Let us know in the comment section below.
Leave a comment